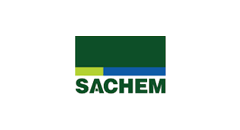 Sachem Europe B.V. (Netherlands)
SACHEM is one of the oldest and leading global producers of 3-chloro-2-hydroxypropyl trimethylammonium chloride (CHPT). SACHEM's Reagens™ is utilized in the cationization of starch. Sachem's Reagens™ products introduce a cationic charge ("cationization") to biopolymers such as cellulose and guar.
---
Sachem Europe B.V. Products Offered by Chika Pvt. Ltd.
Brand Name / Generic Name
Product Code
Supplier / COO
CAS
MSDS
Literature
Reagens 69
Cationic Reagent, CHPT, 3-chloro-2-hydroxy propyltrimethylammonium chloride
-
Sachem Europe B.V.
Netherlands

CAS :

3327-22-8

MSDS :

Contact

Literature :

Contact
Partner with us
We are inviting partnerships globally and from within India, if you wish to become our partner in growth, please write to us.